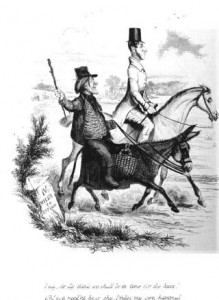 What do you mean you've never heard of The Bolton Ass?
Well, let me introduce you to this once famous donkey.
I found out about The Bolton Ass because Dr. John Doran mentioned him in a lesson he shared.
He was talking about Diet and Digestion in his book "Table traits, with something on them" and brought up this mysterious creature.
Dr. Doran described The Bolton Ass as a creature who believed he could become as swift as a race horse by chewing tobacco and taking snuff.
My donkey is a descendant of The Bolton Ass mentioned in Dr. Doran's tale from the mid-1800's.
Contrary to his ancestor's preference to tobacco and snuff, my donkey does not partake of such poisons.
Neither did his great-grandfather. Here's a picture of The Bolton Ass racing a Thoroughbred. He didn't win, but he sure gave that high-brow a run for his money!