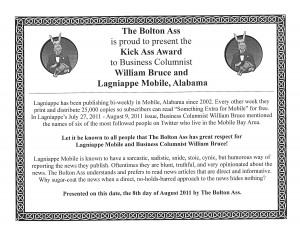 The Bolton Ass is proud to present the Kick Ass Award to Business Columnist William Bruce and Lagniappe Mobile, Alabama
Lagniappe has been publishing bi-weekly newspapers in Mobile, Alabama since 2002. Every other week they print and distribute 25,000 copies so subscribers can read "Something Extra for Mobile" for free.
In Lagniappe's July 27, 2011 – August 9, 2011 issue, Business Columnist William Bruce mentioned the names of six of the most followed people on Twitter who live in the Mobile Bay Area.
In the middle of William Bruce's "Bidness acquisitions up again" article in the "Business – The Real Deal" column, entitled "Top Mobile, Alabama twits", William Bruce explains that Twitter is an online business and social networking web site.
He goes on to say that "A check of the top tweeters in Mobile, turned up some interesting people."
Then he names six of the top Mobile area tweeters along with a brief description of their contributions on Twitter. (I've taken the liberty of providing some additional information about each person.):
Let it be known to all people that The Bolton Ass has great respect for Lagniappe Mobile and Business Columnist William Bruce!
Heaven forbid you missed the article! But just in case you missed your copy, here's an excerpt of the article from the July/August issue of Lagniappe: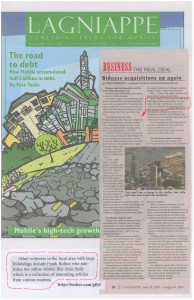 Lagniappe Mobile is known to have a sarcastic, sadistic, snide, stoic, cynic, but humorous way of reporting the news they publish. Oftentimes they are blunt, truthful, and very opinionated about the news. The Bolton Ass understands and prefers to read news articles that are direct and informative. Why sugar-coat the news when a direct, no-holds-barred approach to the news hides nothing?
The Bolton Ass believes in treating people fairly and giving credit where credit is due. So, after a little research, The Bolton Ass offers some additional contact information about William Bruce and Lagniappe Mobile:
The Bolton Ass encourages you to read Lagniappe Mobile and to be an active contributor in the most popular social networks on the internet! Why? Because they "Kick-Ass!"