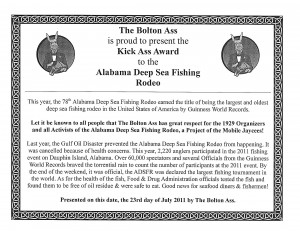 I am pleased to announce The Bolton Ass Kick Ass Award #0000002 was presented to the Alabama Deep Sea Fishing Rodeo of Dauphin Island, Alabama on 23 July 2011.
This year, the 78th Alabama Deep Sea Fishing Rodeo, a project of the Mobile Jaycees, earned the title of being the largest and oldest deep sea fishing rodeo in the United States of America by Guinness World Record.
Last Year, the Gulf Oil Spill Disaster prevented the Alabama Deep Sea Fishing Rodeo from happening. It was cancelled by the Mobile Jaycees because of health concerns. This year, 2,220 anglers participated in the annual fishing event held at Dauphin Island, Alabama.
Over 60,000 Spectators and several Officials from the Guinness World Records braved the torrential rain to count the number of participants at the 2011 event. By the end of the weekend, it was official, the Alabama Deep Sea Fishing Rodeo was declared the largest fishing tournament in the world.
As for the health of the fish, Food and Drug Administration officials tested the fish and found them to be free of oil residue and were safe to eat.  That was one less thing for Gulf seafood diners and fishermen to worry about.
Let it be known to all people that The Bolton Ass has great respect for the 1929 Organizers and all past, present and future Activists of the Alabama Deep Sea Fishing Rodeo!
Additional Resources: