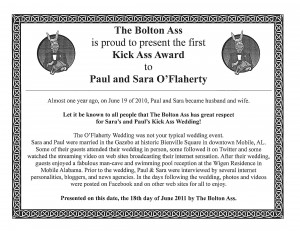 I am pleased to announce The Bolton Ass Kick Ass Award #0000001 was presented to Paul and Sara O'Flaherty during a #MobileALtweetup supper at Sabor A Mexico in Mobile, Alabama on 18 June 2011.
This #Tweetup was not your usual #Tweetup because it was organized in honor of Sara and Paul's One Year Wedding Anniversary.
Paul and Sara met via the internet, they live on the internet, they even got married on the internet.
I met them on the internet while I was observing, testing, and building my internet presence. As Paul exclaimed one day while reviewing my internet posts: "What have you been doing…. playing?"
To tell you the truth, yes. I've been playing all my life. If it's not fun… I prefer not to do it. That's the donkey in me. The Bolton Ass.
My life has been shaped by what I want. What appears as hard work for some, is child's play to me. Not because it's easy work. It's mainly because of my attitude. And what I find fascinating.
For my generation, the internet is fairly new. I've been fascinated by it ever since the Small Business Administration announced their bulletin board web site was on-line.
At that time, I was working in the Architectural and Engineering fields and enjoyed drawing for a living. Unfortunately, they (architects and engineers) were converting over to electronic media and by doing so, my career enjoyment vanished as well.
Drawing no longer took talent. Pointing and clicking on a computer screen was not my idea of drawing. So, I began to convert my career interests to the marketing aspects of the internet.
I figured if I could convert 85% of our architectural and engineering prospects into clients. I could help others do the same thing… online.
But, I had to find out what was different from selling face-to-face compared to internet marketing and sales. So I began my travels all over the internet.
During some of those travels, I met Paul and Sara. Paul lived in Ireland and Sara lived here in Mobile, Alabama.
Paul loved shooting pool and was very knowledgeable about the technical aspects and marketing aspects of the internet. I also found Paul to be a person who speaks his mind.  A trait I value in the people I associate.
Sara had an awesome blog where she writes about motherhood, marriage, and her fascination with all things internet. She is very proactive about helping others build their web sites by organizing several technical organizations that share their knowledge.
At last count, Paul and Sara own and manage at least six web sites. Both are listed among the elite list of Mobile Alabama top 50 people by twitter grader.
Last year, I decided to create a short post about Paul and Sara's internet wedding. So, I started researching and collecting the url's discussing their wedding. It became a monumental task. So, I stopped.
About a month ago, I decided to finish my project. I found the notes from my research, and did exactly that.
Problem is… it did turn into a monumental task. But I persisted and finished it. It ended up becoming a nine post series.
I originally wanted three days of posts (Engagement – Wedding – Honeymoon) to be converted into a chronological stream of conversation and side conversations.
However, because of what I believed was pertinent information, I did include some extra posts before and after their three day event. I'm sure you'll agree it provides some very interesting reading.
The following nine articles are dedicated to Paul and Sara's Internet Wedding.
I know these articles do not include all the twitter updates mentioning Paul and Sara's #Twedding, but time was getting away from me during my research and the search engines and going back into time was becoming increasingly difficult and time consuming.
So, if you know of any additional twitter updates or web site references to Paul and Sara's #Twedding, please let me know by sharing them in the comments section of these articles.
You can call it an internet scavenger hunt if that gets you motivated to contribute to honoring Sara's and Paul's Wedding.
I haven't taken the time to collect all the names of the people who contributed to these articles by posting their updates on twitter. But, without you, I would not have been able to demonstrate the awesomeness of the internet and how two people wove it into their wedding.
Please let it be known that all contributors to these nine articles will be listed among The Bolton Ass – Honorable Mentions Award winners. All of you kick ass!
I am not planning to contact each and every person included in these articles. So, if you see someone you recognize, please let them know they've been quoted by The Bolton Ass.
[FYI: There is much to be learned about internet marketing if you take the time to read between the lines of these articles. If you don't recognize the lessons I've discovered, feel free to add your name to my list of prospective clients. – gfb3]